download JWatcher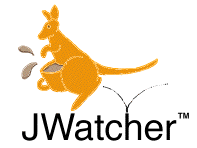 Downloads
Note that the JWatcher installer is itself a Java application. Please check that you have a Java Virtual Machine installed on your computer before running one of the files available below.
Instructions for Downloading JWatcher
1) Select the version you wish to download. Version 1.0 has many more features than version 0.9. Version 0.9 works on 2000-era machines and data files can be analyzed with Version 1.0.
2) Select the download. If you have the proper version of Java already installed on your computer, download the version without the JRE or MRJ. For version 1.0, you can only download the Mac version without the MRJ; OS-X comes with a fully-functional Virtual Machine.
3) Read the appropriate manual for additional installation instructions.
Are you using Vista or Windows 7? Some users have reported that the program 'hangs' on installation. Here's a user-written trick to install on these platforms: Use JWatcher Version 1.0 and download the version with the JRE. Navigate to the installer that saved from the website. Right click on it and select Properties (should be the bottom option). In the window that opens, select the second tab (Compatibility). There is a Compatibility Mode listed on that tab near the top of the page. Check the "Run this program in compatibility mode for: " checkbox. Select "Windows XP (Service Pack 2)" or "Windows XP Service Pack 3)". Click the OK button in the bottom of the window. Run the installer. Note: Users have reported more difficulties installing Version 1+Video. As always, if you're trying to install Version 1+Video, ensure that the current version of Java, QuickTime and QuickTime for Java are present.
Do you want to install JWatcher on a Windows 10 computer? Here are detailed instructions provided by a Katie McGhee (thanks Katie!).
For users on Mac OS X, if JWatcher will not download:
Try using a different browser (Safari instead of Google Chrome, for example).
Check your browser's security preferences to make sure downloads from unrecognized sites are allowed.
Once the file successfully downloads, you will likely need to change security preferences on your computer in order to open the file. From the Apple menu –> System Preferences –> Security & Privacy –> Allow apps downloaded from: Anywhere (Click the lock to make changes)
Having problems getting JW-Video working on an XP? After ensuring that you've got all the 'helper' apps installed, here's a user trick: At http://www.my-dll.com/index.php download the file called QTJava.dll Place the QTJava.dll file into C:\Program Files\JWatcher – Video V1.0\jre\bin (or wherever JWatcher Video is installed).
Linux installation instructions
After downloading the file ("jwatcher-linux.jar"), you should mark the file as executable.
Using the gui, right-click on the file and got to "Properties" > "Permissions" tab and select "Allow executing file as program"
Using a command line method "chmod 555 ~/Downloads/jwacther-linux.jar".
Just double-click on the "jwatcher-linux.jar" file and follow the instructions. If you want to install jwatcher outside of your home folder, you will have to run the installer as root (i.e. sudo java -jar ~/Downloads/jwatcher-linux.jar for Ubuntu users)
Linux troubleshooting
If JWatcher freezes after scoring 2 focal observations, this is due do a bug in java when handling sound files. To avoid the problem, select "Sound OFF" before capturing data.
JWatcher Version 0.9
(2000 era computers–Mac OS-9, Windows 98)
JWatcher Version 1.0
(Advanced functionality developed for 2006 era computers–Max OS-X, Windows XP)
see instructions above for Linux installation and troubleshooting
JWatcher Video
(Allows you to score QuickTime videos directly from JWatcher
Windows XP version works perfectly; Mac version is buggy)
JWatcher-Palm
(Score behavior from a Palm OS-PDA)
Copyright (c) 2000-2020–Daniel T. Blumstein, Janice C. Daniel, and Christopher S. Evans†. All rights reserved.
JWatcher is a joint project of the following labs:

Dan Blumstein's Lab University of California Los Angeles & the late Christopher Evans' lab at Macquarie University, Sydney
We thank the National Institute of Mental Health, The Australian Research Council and Macquarie University for support.
Return to the JWatcher Home page
Last updated: 26 June 21